WE ARE CROMARTY FESTIVAL
Added on 07 August 2014
THE BETSEY PROJECT
BACKGROUND BRIEFING
The Royal Scottish Geographical Society and The Friends of Hugh Miller are jointly organising a replica voyage round the Inner Hebrides which the great Scottish geologist and writer Hugh Miller made in 1844, as recorded in his book, The Cruise of the Betsey.
The purposes of the venture are to make Miller and his life-work better known as a titan of Scottish science and literature, and to campaign for the teaching of geology in Scottish schools as a subject in its own right. We view this as particularly important for the future of the energy industries in Scotland, particularly in the North East.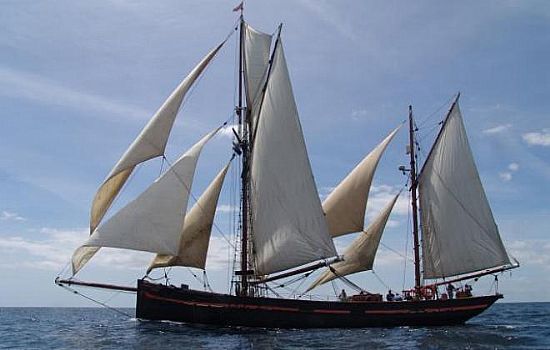 We have chartered a venerable fishing trawler,The Leader. built in 1892, and converted to sailing vessel , for the voyage, which will be undertaken 6th – 12th September 2014. Sailing from Oban, we shall call at the Isles of Mull, Eigg and Rum, and Skye if weather, tides and time permit. We seek to enhance the experience of, and learn from, the island communities.
We will carry a complement of some 15 passengers, representing Miller's interests: among us will be geologists, naturalists, historians, story-tellers, Gaelic scholars, writers, artists and musicians. We aim to ensure a good balance in gender and age groups. We are liaising with organisations in the island communities to set up events of information and entertainment, which will embrace their histories, traditions, and changes in lifestyle, from Miller's time in the mid 19th Century to the 21st.
The Friends of Hugh Miller are responsible for organising an important follow-up "mini-festival" in Miller's home town of Cromarty, 23rd – 25th September on the theme, "We Are Cromarty". There will be "talks and walks" led by a geologist, a naturalist and a folklorist respectively. We will present exhibitions of fossils, paintings, botanical illustrations, beach sculpture and photography, and celebrate with a concert by Cromarty Youth Cafe "all stars."
"WE ARE CROMARTY" FESTIVAL PROGRAMME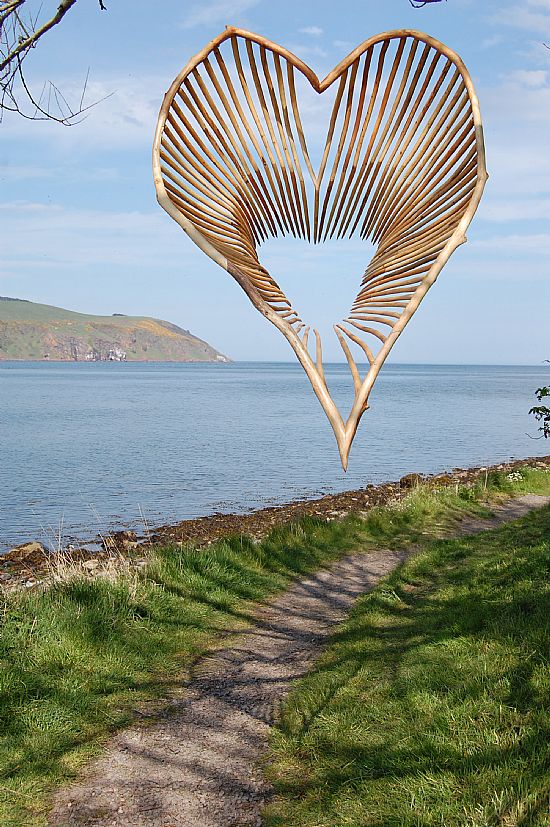 Leon Patchett's beautiful driftwood "heart" sculpture
Film shows: In the Wake of the Betsey; Beautiful Cromarty (Camera Club slide show); Youth Club sailing; Miller-themed beach dance.
Arts and Crafts Exhibitions: Mary Maclean (watercolours); Leon Patchett (driftwood sculpture); Julie Price (botanical illustration); Barbel Dister (pottery); Pat Davidson (oil painting); Jim Pennie (wood-turning); Cromarty Crafters.
Displays: National Trust for Scotland (Hugh Miller Birthplace Cottage and Museum); Prospecting for Scottish minerals and precious metals; Cromarty Medieval Archaeology dig.
All the above showing continuously. Drop in to The Old Brewery any time, 10.30 am – 4.30pm.
Tuesday 23rd September
11.00am Public and media opening of the festival.
12 noon – 1.00, and 2.00 – 4.30pm: Geology talk given by Professor Nigel Trewin, with fossil specimens, followed by exploration in the afternoon of Hugh's famous fish-beds.
Wednesday, 24th September
10.30-12.30pm: Story-telling and walkabout with Bob Pegg
Thursday, 25th September
11.00am – 1.00pm: Wildlife talk and walkabout with Kenny Taylor
2.30 – 4.30pm: Poetry and story-telling; harp recital.
FINALE
MUSIC AND DANCE SPECTACULAR
Starring Cromarty Youth at
VICTORIA HALL, 7.30-9.30pm
All events free; donations welcome