HAPPY BANNER LAUNCH
Added on 09 August 2014
HAPPY BANNER LAUNCH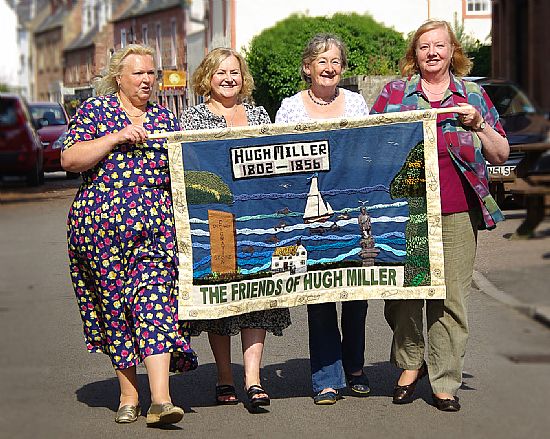 A JOYFUL unveiling of our stunning new banner was celebrated at the Museum on Friday, August 8th, 2014. Several of the Cromarty Crafters who put it together were there to mark the occasion, as were Museum staff, local papers, the Aberdeen Press and Journal, and the Inverness Courier, and some of our members.
The banner will be our piece of pageantry on show on all occasions in which The Friends are taking part, whether it be our own annual meeting, or public events such as meetings and exhibitions. It is tough enough to be mounted for both outdoor display, and indoors as a wall-hanging.
Two of its most important starring appearances in the near future will be aboard the Leader boat sailing in Hugh Miller's wake round the Small Isles, Inner Hebrides, 6th – 12th September, and at the We Are Cromarty festival we are organising at the Old Brewery (Cromarty Centre), 23rd – 25th September.
It was back in April that The Friends commissioned the Crafters to make this tapestry, with those events in mind. They are a group of seven local ladies who each brought their individual sewing skills to the artwork. It took them in aggregate between 250 and 300 hours in the ensuing weeks to produce their pieces, entirely by hand. It measures 4' x 3' (122cm x 91cm).
As you will see, they have created a gorgeous imaginary land and seascape. The Birthplace Cottage, the monument, the Sutor headlands, and the Emigration Standing Stone are familiar to us all, but the yacht Betsey never sailed in the Cromarty Firth. She is there to symbolise her role in Miller's life and one of his best known books.
The surround of the banner features Jurassic belemnites and ammonites, and Miller's famous Devonian fossil fish, Pterichyodes Milleri, lying on a sand background.
The themes were agreed at a preliminary meeting between the Friends and the Crafters. Each of the women then separately worked up their contributions, before it was all pieced together on to the fabric, and machine-stitched on to its backing.
Here are some of the skills deployed: Dates, Wool tapestry; North Sutor, hand-knitting; South Sutor, French knotting/crewel work; Betsey hull and sail, cross stitch embroidery; Hugh Miller monument, appliqué/stump work; Emigration Stone, appliqué/embroidery/crewel work; Hugh Miller's Cottage, long stitch tapestry; Waves, crochet; Dolphins, needle felting; Sea gulls, embroidery; The Friends of Hugh Miller lettering, Applique, hand-stitching; Border fossils, embroidery; Overall assembly, invisible hand sewing/machine sewing.
The seven Crafters are : Estelle Ellwood, organiser, Evelyn Wilson, Moira Munro, Mary Bowers, Pam Thompson, Mary Erskine, and Marion Grant. They are a very modest bunch, who declined to be identified individually with the above works, and some of whom preferred to eschew the publicity.
We are indebted to them all.