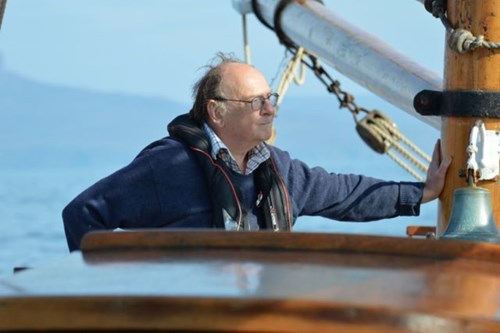 The Martin Gostwick Writer's Residency
Added at 18:33 on 02 May 2023
The Friends of Hugh Miller committee are delighted to announce The Martin Gostwick Writer's Residency, in honour of our late founder and much-missed friend. The residency will support a writer or poet with a strong interest in either Hugh Miller or Scottish geology more widely to spend one week in Cromarty. The residency has been organised in collaboration with the Cromarty Arts Trust and the Hugh Miller Birthplace Cottage and Museum.
The chosen writer will spend a fully funded week at the self-catering residence managed by the Cromarty Arts Trust, Ardyne House. In return, the writer will produce a short piece of writing for publication in Hugh's News / on the Friends of Hugh Miller website, as well as working on their own studies and writing of their choice.
We are very pleased to announce that our first writer in residence for 2023 will be Anna Fleming, former first prize winner of the Hugh Miller Writing Competition 2020, and author of Time on Rock (Canongate, 2022). Anna will be giving a talk at the Friends of Hugh Miller AGM on Sunday May 28th, 2023, in Cromarty.
Martin Gostwick founded the Friends in 2006, and his passion and enthusiasm for Hugh Miller shone through in all that he achieved. Martin was a prolific writer himself; a renowned journalist – he spent many years working for various titles in England before moving to the socialist newspaper the Morning Star (as Parliamentary correspondent and later as their Scotland correspondent). It was a stroke of fate that brought Martin to Miller - when his wife Frieda Gostwick was appointed custodian of the Hugh Miller Birthplace Cottage by the National Trust for Scotland, and the couple moved to Cromarty in 1992. Martin sadly died in July 2021, and the Friends committee wish to honour his memory with this new residency, which we believe Martin would have been excited to be involved in.