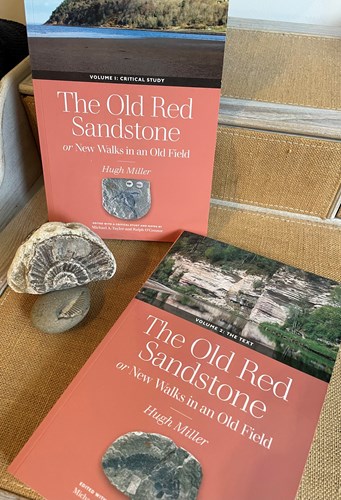 The Old Red Sandstone shortlisted for Scottish Research Book of the Year Award
Added at 08:57 on 06 November 2023
As the latest edition of Hugh's News was going to press, we received the Saltire Society's announcement of the shortlisted
titles for the 2023 Scotland's National Book Awards, which recognise work across six literary categories
(Fiction, Non-Fiction, Research, History, Poetry and First Book) and three publishing categories (Publisher, Emerging
Publisher and Cover Design). We were delighted to hear that The Old Red Sandstone has been shortlisted for
the Scottish Research Book of the Year Award, which is run in partnership with the National Library of Scotland.

Sarah Mason, Executive Director of the Saltire Society, said: "The 2023 shortlists for Scotland's National Book
Awards show the outstanding talent, scale, diversity and excellence that we are so lucky to have in Scotland today.
These Awards have a proud history of celebrating the extraordinary richness in the work of our authors, publishers
and designers and we congratulate everyone who have been shortlisted this year."

Well done to editors Michael Taylor and Ralph O'Connor, and best of luck at the next stage - the Literary Awards winners will be announced
at a ceremony in Glasgow on 7 December 2023.