The Friends of Hugh Miller is a small charity set up to support Hugh Miller's Birthplace Cottage and Museum in Cromarty on the Black Isle, where the Victorian geologist Hugh Miller was born in 1802. We aim to promote, celebrate and research Miller's legacy, both by encouraging visitors to the Museum and by hosting regular events to boost knowledge and understanding of Miller, his family and his life.
The Friends of Hugh Miller welcome anyone with an interest in Miller, and/or in Scottish geology or history more broadly, to join us. We are a small, welcoming and enthusiastic group run entirely by volunteers. We have an AGM every spring in Miller's hometown of Cromarty, to which all are welcome to attend. We run events once or twice a year (sometimes more!), and we produce a regular newsletter crammed full of fascinating articles and new research on Hugh Miller and related topics. To join us, please complete our online form - donations are also most welcome!
Larissa Reid
Hugh Who?
Hugh Miller (1802-1856) was humble, determined, intelligent and entirely self-taught in his passion – geology. He strode around our country in the mid-Victorian era, at times covering 30 to 40 miles per day, in search of treasure. Fossilized, ancient treasure. He gathered specimens of ancient fish, of reptiles, of long-extinct sea creatures, and pieced them together like a jigsaw – often literally. His finds would be scattered through layers of rock and distributed along shorelines and embankments, quarries and offshore islands, and he would somehow find each tiny piece – a scale here, a bone there, each fossil ghost a fragment of the story - and he would painstakingly reconstruct their past shapes and forms and puzzle over their ancient world.
Miller was more than 'just' a geologist, however. He was a prolific writer, with numerous books and essays to his name. He was editor of The Witness newspaper - the paper of the Free Church of Scotland, which had a vast readership. He was also a campaigner for social justice, and his writings contain extensive and valuable observations of historical value.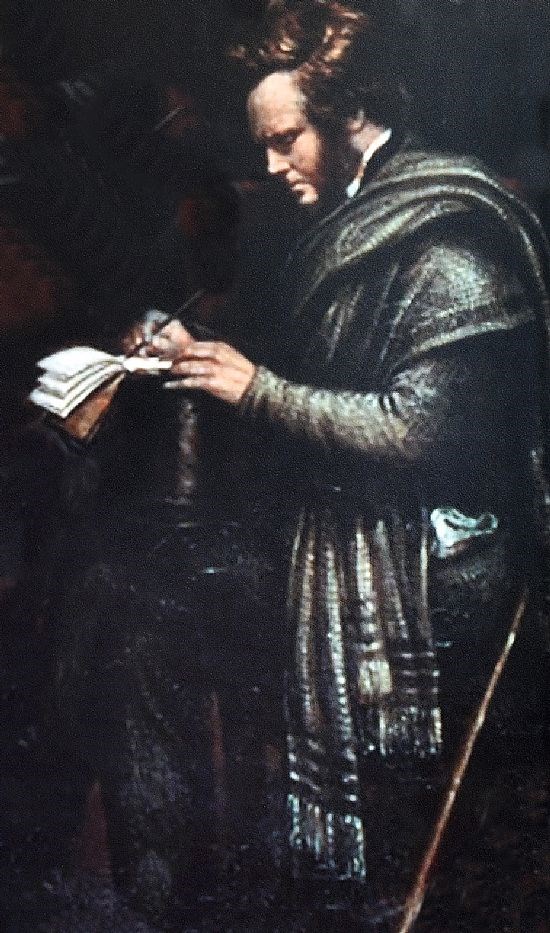 "Life itself is a school, and Nature always a fresh study."
Hugh Miller, My Schools and Schoolmasters, 1854